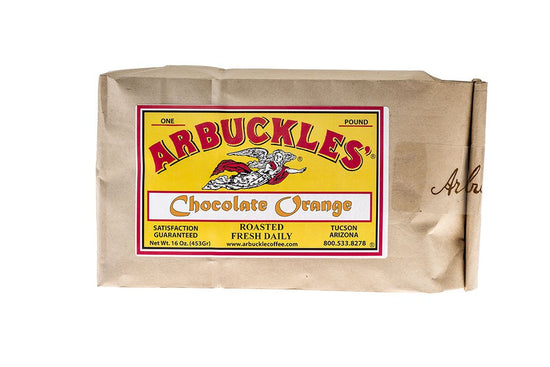 Product Description
Description

Shipping & Returns

Legend
Description
One Pound 16oz
Shipping & Returns
All Orders Before 12:00PM PST Ship Same Day Mon-Fri
We Pay Shipping on Orders over $75 (48 Continental U.S. States)
We are a family owned and operated business.  We strive to offer the most competitive rates on all our shipping options for USPS, FedEx and DHL. 
We stand behind our coffees and teas and offer a 60 Day Satisfaction Guarantee. 
If for any reason you are not 100% satisfied with your Arbuckle Coffee order we will provide a no hassle exchange or refund; whichever you prefer.
Legend
Up until the close of the Civil war, coffee was sold green. It had to be roasted on a wood stove or in a skillet over a campfire before it could be ground and brewed. One burned bean ruined all; there was no consistency.
In 1865 John Arbuckle and his brother Charles, partners in a Pittsburgh grocery business, changed all this by patenting a process for roasting and coating coffee beans with an egg and sugar glaze to seal in the flavor and aroma.
Marketed under the name ARBUCKLES' ARIOSA COFFEE in patented, airtight, one pound packages, the new coffee was an instant success with chuck wagon cooks in the west faced with the task of keeping Cowboys supplied with plenty of hot coffee out on the range. ARBUCKLES' ARIOSA COFFEE packages bore a yellow label with the name ARBUCKLES' in  large red letters across the front, beneath which flew a Flying Angel trademark over the words ARIOSA COFFEE in black letters. Shipped all over the country in sturdy wooden crates, one hundred packages to a crate, ARBUCKLES' ARIOSA COFFEE became so dominant in the west that many Cowboys  were  not  aware  there  was  any other  brand.  
Keen  marketing  minds, the Arbuckle Brothers printed signature coupons on the bags of coffee redeemable for all manner of notions including handkerchiefs, razors, scissors and wedding rings. To sweeten the deal, each package of ARBUCKLES' contained a stick of peppermint candy. Due to the demands on chuck wagon cooks to keep ready supplies of hot ARBUCKLES' on hand around the campfire, the peppermint stick became a means by which that steady coffee supply was ground. Upon hearing the cook's call, "Who wants the candy?" some of the toughest Cowboys on the trail were known to vie for the opportunity of manning the coffee grinder in exchange for satisfying a sweet tooth. 
Today thanks to the folks at ARBUCKLE, the Cowboys' favorite, ARBUCKLES' ARIOSA COFFEE, is available once more. Complete with the original Flying Angel trade mark, these one pound packages of rich beans are every inch the full-bodied, aromatic coffee you get from ARBUCKLES'.  There's even a stick of peppermint inside each bag! No longer just a fond memory for a dwindling breed of old-time cowmen, ARBUCKLES' ARIOSA COFFEE is back as good as ever.
Best Flavored Coffee Ever!
I found this coffee through a friend, and I haven't been able to drink any other coffee since!!! Best flavor, always smooth, just a touch of sugar and cream and it's perfection. Only way to start the morning!
Fantastic Surprise
I received my Arbuckle"s chocolate orange coffee quickly. The package at my apartment door, and I could smell the coffee not only through the FedEx package, but through bubble wrap as well as a Ziploc bag! The flavor is just as good as the aroma. In fact, the flavor got better as the coffee cooled! For me it's a perfect balance of coffee flavor, chocolate, and orange. Arbuckle Coffee Roasters has to disappoint me!
Chocolate Orange Coffee
We tried this and like the coffee but it's hard to tell where the Orange flavor is.
Yummy
I have mixed the chocolate kisses and this orange chocolate. Yummy. Both are delicious by themselves but together I get the best of both of them. I will definitely buy both again